Custom Prize Wheels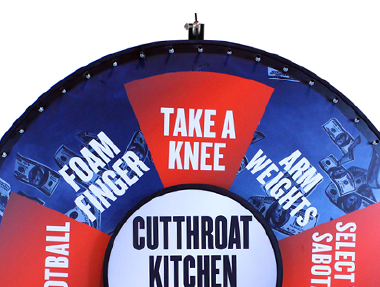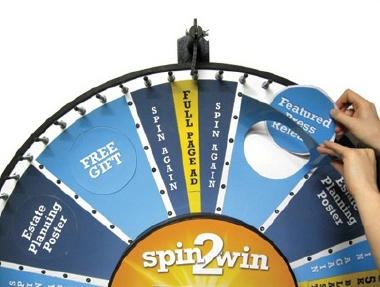 Design & Insert your own paper prizes

Or use Dry Erase markers to write in your prizes!

Choose your custom colors and amount of sections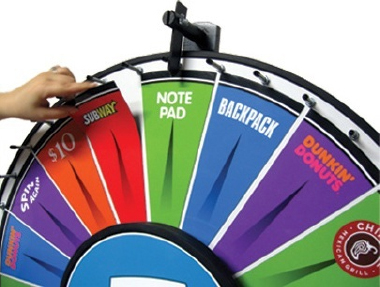 All of our custom prize wheels provide you with the ability to design and customize your prize wheel to your specifications. You can choose the colors, the number of sections, and the complete design of your spinning game wheel while working with our experienced graphic designers. There are three styles of custom revolving game wheels to choose from. The Custom Insert Your Own Graphics style prize wheel is magnetic and comes with the amount of sections you choose, each with die-cut holes in the center to insert your own paper prizes. The Custom Removable Magnetic Graphics prize wheel has a completely magnetic face and includes separate magnetic sections customized to your specifications. The Custom Permanent Graphics prize wheel is the most economical option and gives you the opportunity to customize the prize wheel any way you would like, but you will not be able to change the design.

Steps in the Design Process
FAQ's
Q: Is my Prize Wheel a complete unit?
A: All of our prize wheels are complete units and come with the stand you choose at the time you order.
Q: Are travel cases available for my Prize Wheel?
A: We offer different styles of travel cases for our prize wheels depending on size.
Soft carrying prize wheels cases for sizes 18",24", 30", 36": Canvas carrying bags will hold the prize wheel, logo plate and disassembled table stand. This to carry from event to event
Hard Shell Shipping Cases: 24", 30", 36": These case are made of sturdy ABS material and are equipped with foam padding throughout for extra protection and a snug fit. The metal corners and edges provide extra durability for carrier shipping. All of the cases can be ordered with wheels and a pull handle.
For our larger prize wheels 48"+ we offer the option of a storage case or a heavy duty road case meant for shipping with freight carriers. Please reach out to our sales team for more information.
Q: My product I received is damaged or defective, what do I do?
A: Please save all packaging materials and contact us immediately. We will need images of all damages and packaging materials to file a claim and get you a working product.
Q: What materials are used in your wheel and are they durable?
A: Our prize wheels are made of a ¾" wood composite laminated with melamine, steel pegs, double precision ball bearings and sign grade graphics materials. Our products are made of the highest quality materials to ensure they will hold up to the test of time.